Before & After School Program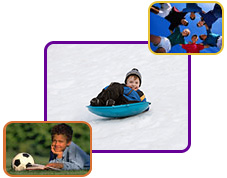 This service is operational Monday through Friday, 7:00 a.m. to 8:45 a.m. and 3:00 p.m. to 5:30 p.m. throughout the school year.
NECCI is held at each of Newington's four public elementary schools.  Our goal is to provide creative and educational activities in a positive play environment.
A wide variety of activities are offered, including but not limited to, indoor and outdoor organized free play, arts and crafts, board games, quiet time, homework time and organized sports.  We are outdoors daily, even in the winter months, weather permitting.
We publish newsletters throughout the school year.  This keeps you informed as to what is being offered at your NECCI center, the monthly themes that are chosen by the staff, and activities your child is involved in.